Extendable Ears were created by Fred and George Weasley. They are long, flesh-coloured pieces of string which one can insert in one's ear, then shove the other end under (for example) a door, and one will hear the conversation or other noise as clear as if it was mere foot away, unless, that is, the door has been imperturbed.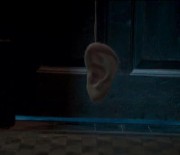 Ad blocker interference detected!
Wikia is a free-to-use site that makes money from advertising. We have a modified experience for viewers using ad blockers

Wikia is not accessible if you've made further modifications. Remove the custom ad blocker rule(s) and the page will load as expected.